"Shop 'til You Drop"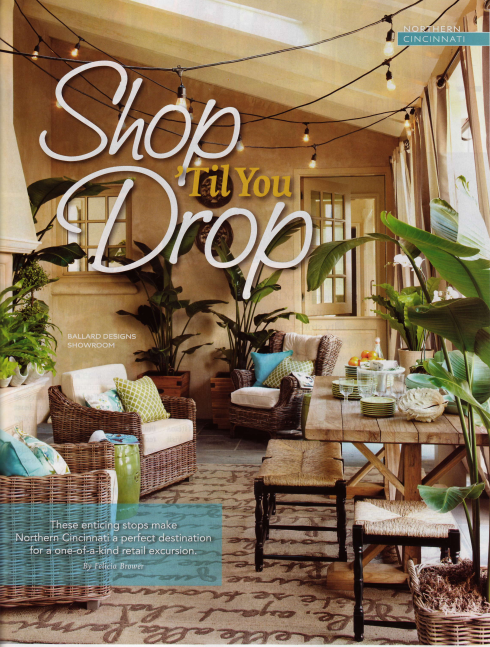 "Shop 'Til You Drop"
Ohio Magazine
These enticing stops make Northern Cincinnati a perfect destination for a one-of-a-kind retail excursion.
Northern Cincinnati takes shopping seriously, and the sheer number of home furnishings stores, outlet centers, antiques and collectibles shops, specialty stores and art galleries proves it. Whether you're looking for something special or are just in need of some retail therapy, you'll find what you're looking for just a short drive north of the Queen City.
Easy Assembly
For those unfamiliar with IKEA West Chester, just imagine a huge maze of attractive assemble-it-yourself furniture and home furnishings for extremely affordable prices. This 344,000 square-foot store is difficult to miss, but easy to spend all day in. In addition to more than 10,000 exclusively designed items, IKEA West Chester showcases 50 different room settings, has a supervised children's play area and serves Swedish specialties and American dishes in its 400 seat restaurant. Joining IKEA Family, IKEAs free shopper loyalty program, is a simple way to get additional savings on select pieces of furniture and home goods.
What makes this retail giant unique is that shoppers can view IKEAs expansive inventory online or via catalog before making a trip to the store. If you're concerned about feeling overwhelmed, don't fret – IKEAs website has several suggestions for having a productive shopping day and also has a shopping list feature that allows visitors to create and organize a list of items that have piqued their interest. Visit ikea.com for additional information.
Outstanding Outlets
With 100 outlet stores to choose from, Cincinnati Premium Outlets in Monroe is a hot spot for savvy shoppers looking to indulge in great deals. Designer and name-brand outlet stores, including Banana Republic, Coach, J.Crew, Kenneth Cole, Nike, Polo Ralph Lauren and Saks Fifth Avenue Off 5th, make this outdoor outlet center a popular destination for bargain hunters. Sales vary but typically range from 25 to 65 percent off the original retail price, with additional discounts on select holidays.
Visitors can also sign up for the VIP Shopper Club, a free membership program that offers insider savings at participating stores. Patrons at least 50 years of age will especially enjoy 50 Plus Shopper Perks – an opportunity to receive an additional ro percent savings on Tuesdays at participating stores. For more information, visit premiumoutlets.com/cincinnati.
Fine Home Furnishings
The Frontgate and Grandin Road Outlet Center in West Chester is home to the Frontgate Showroom and Outlet, Grandin Road Outlet, Ballard Designs Outlet, and TravelSmith Outlet. Frontgate (frontgate.com), Grandin Road (grondinroad.com) and Ballard Designs (ballarddesigns.com) are known for their luxury designer-inspired accents and furnishings for the home and garden. TravelSmith (travelsmith.com) specializes in creating hassle-free travel experiences with innovative travel essentials. In addition to current catalog items, visitors to the Frontgate and Grandin Road Outlet Center will also find discounted overstocked, out-of-season or slightly damaged merchandise. For more information, visit grandinroad.com/store-locs/content.
Gigantic Grocery Stores
Jungle Jim's International Market puts the "super" in supermarket, and a visit to either of the two locations – one in Fairfield and a new location in Cincinnati – will reveal that this is no ordinary grocery store. Jungle Jim's International Market has been featured on Food Network's Unwrapped, ABC News' Good Morning America and in Smithsonian magazine. Covering 6 acres of floor space, the Fairfield location boasts more than 150,000 items, many of which are international items; beer and wine; special foods; and fresh produce, seafood and meat. The quirky, theme park-esque atmosphere can be attributed to the unusual displays throughout the store, including several animatronic ones. (Look for the display of some 1,500 hot sauces under a genuine fire truck.) Many of the special foods in the store are difficult to find elsewhere, and customers often drive long distances to buy Jungle Jim's goods. For more information, visit junglejims.com.
Admired Antiques
Waynesville is known as the Antiques Capital of the Midwest, and it's been said that a shopping trip to this quaint village is like a step back in time. Brass Lantern Antiques (513/897-9686) has a large collection of country and Victorian furniture and accessories and is also home to Cheap John's Country Store. At Lilly's Corner Mall (lillyscorner.com), shoppers can choose from several fine antiques and collectibles vendors. And, if you're looking for something in particular that you can't find at Lilly's Corner Mall, the owners will try to find it elsewhere for you. For a complete list of Waynesville Merchants Association shops (there are more than 60 specialty shops, art galleries, lodging choices and restaurants), visit waynesvilleshops.com.
Specialty Shops
Specialty shops are also abundant in Waynesville. Fabric Shack Quilting Store (fabricshack.com) is known throughout the country for its extensive selection of quilt fabric and online ordering capabilities. The Peddler House (thepeddlerhouse.com) has home decor and gifts for celebrating each season and prides itself on its product selection. Winsome Cottage (513/897-0667) offers shabby chic, vintage painted furniture, quilts, chandeliers, and home decor. The Red Barn General Store (redbarngeneralstore.com) is fittingly located in the historic district and carries old-time toys, gourmet foods and John Deere and Coca Cola collectibles. For high-quality antique reproduction furniture, Windsor chairs, cabinetry rugs and home decor, stop by Benner's Colonial Traditions (513/897-9000), and don't forget to visit Waynesville Furniture & Decorating (waynesvillefurniture.net) – one of Waynesville's longest-operating businesses – for its custom furniture, gift items and home decor.
Awe-Inspiring Art
Northern Cincinnati's art stores provide patrons with truly exotic pieces sure to make great conversation starters. Wombat Art Works (wombatartworks.com) in Waynesville doubles as a store and a gallery of fine arts and crafts and frequently hosts visiting artists. Canada Goose Gallery (canadagoosegallerypbuckleymoss.com) in Waynesville offers custom framing and exclusively exhibits artwork of P. Buckley Moss, who visits every year for a featured showing at this gallery. International art aficionados should visit Gerhardt Tribal Art (513/932-9946) for beautiful art from cultures in the Americas, Asia and Africa. Jewelry lovers will enjoy Exotic Art and Antiques (513/932-1317), a store known for its hard-to-find jewelry, stones and other antique items.
Flea Market Fun
The entire family will have a blast exploring Traders World Market in Lebanon. This 11-acre market consists of 16 buildings, 850 inside spaces and 400 outside spaces. Looking and lingering are highly encouraged. The market has been described as "a place to enjoy the sights and sounds of the marketplace; a place to bargain shop or treasure shop." Browsers of all ages will enjoy strolling through the seemingly endless vendors selling new and used merchandise, antiques, collectibles and art. For more information, visit tradersworldmarket.com.
For More Information
To plan your visit or for more information on shopping in Northern Cincinnati, visit cincyusa.com/north.