"The Good Life in Tennessee"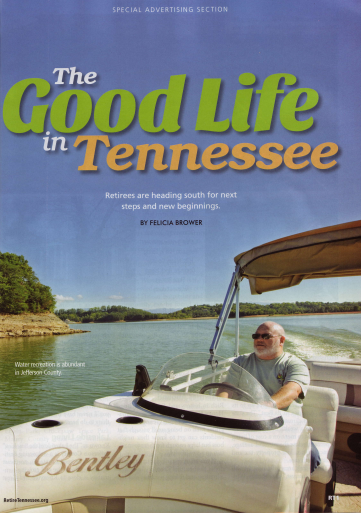 "The Good Life in Tennessee"
Ohio Magazine
Retirees are heading south for next steps and new beginnings.
Retirement marks the beginning of a new chapter in life, and choosing where you want it to be written is no simple task. Whether you're interested in a fast-paced, city environment or a slower, rural setting, there's a place in Tennessee for you.
With its unparalleled natural beauty, rich southern heritage, civic-minded citizens and huge influence on the history of music, Tennessee lives up to its slogan, "America At Its Best." The state offers a mild climate with four distinct seasons and a wealth of natural attractions – not to mention a cost of living 10 percent below the national average, no income tax, low property tax and quality health care.
"Tennessee's array of amenities will please any interest" says Ramay Winchester, director of Retire Tennessee, a program designed to help retirees interested in relocating there to find information about specific communities. "Whether you enjoy an active lifestyle or prefer a leisurely pace, Tennessee provides natural beauty, mild climates, urban conveniences and rural peacefulness. Natural beauty and quality of life go hand in hand in Tennessee."
Activities Abound
Rich in history and Southern culture, Henry County is a charming community in northwestern Tennessee that prides itself on being small enough that residents can get to know their neighbors but large enough for them to maintain an active lifestyle.
If you enjoy spending your days outdoors, the beautiful Kentucky Lake area, a hunting and fishing paradise, also has miles of walking trails. There are a number of golf courses in the area to help you hone your skills, and within a short drive are college and professional football, hockey, basketball and baseball games, as well as NASCAR racing.
Lovers of the arts will be delighted with the events hosted by the Paris Henry County Arts Council, which has excelled in bringing fine arts to the area for 40 years. Awe-inspiring scenery and plenty of activities for retirees guarantee that you'll never have trouble finding something to do here.
Lakeside Living
Known as "The Lakeside of the Smokies," Jefferson County is a welcoming destination for retirees. Located in northeast Tennessee, this active and growing community is close to Knoxville and Great Smoky Mountains National Park. The county's nickname refers to Cherokee Lake and Douglas lake located within its borders. Resident's have many water recreation opportunities, including fishing, boating, and kayaking.
In addition to outdoor adventures, Carson-Newman College, local churches and other organizations the area strive to enrich the cultural life of residents. Several groups organize activities and programs for those unable to transport themselves, and services are available for those who live alone but occasionally need assistance.
Friendly faces will greet you everywhere you venture in Jefferson County. Wake up to breathtaking views of the mountains and water, and experience all that life on the lake offers.
Antebellum Capital
Maury County is a historical gem in central Tennessee. With its agricultural roots, this warm and inviting county has vast natural areas and many preserved historic sites for residents to visit.
Beautiful scenery can be found in Maury county. Woodland Park, Jerry Erwin Park, Chickasaw Trace Park, Maury County Park and Williams Spring Park offer hundreds of acres for outdoor activities.
Antebellum homes and century-old magnolias hint at the historical significance of the area, while museums and restored plantations let you step into the past and see what life was once like. The ample recreation opportunities, stunning beauty, rich history and friendly residents all make Maury County a desirable community with plenty to discover and an excellent place to call home.
Outdoor Adventures
If you're looking for a relaxing change of pace, Warren County is the place for you. Nestled in the foothills of the Cumberland Plateau, hospitality and sense of community can be found everywhere you look. Outdoor recreation activities, low-cost of living, beautiful scenery and friendly people make it a natural choice for retirement.
The area is well-known for its spectacular natural destinations, waterways and trails. Cumberland Caverns is the second-longest mapped cave in Tennessee, with nearly 28 miles of passages. Rock Island State Park is the site of the Tennessee Valley Authority's Great Falls Dam; it has several hiking trails and is a great place for whitewater rafting.
If you love exploring the outdoors or marveling at natural beauty, you belong in Warren County.
Scenic City
Just because you're retiring doesn't mean you have to slow down — Chattanooga is proof of that. Named one of the best places to retire by Where to Retire Magazine in 2011, Chattanooga has everything you're looking for. Tucked into a bend of the Tennessee River and minutes from astounding natural beauty, this progressive city boasts a stable economy, community involvement, culture and diversity, and a convenient location.
The proximity of the Smoky Mountains and the Tennessee River make it an outdoor enthusiasts sanctuary. Downtown Chattanooga is full of opportunities to enjoy the arts, culture, museums and numerous festivals. Attractions and events like the RiverRocks Festival, the Tennessee Aquarium the Riverbend Festival and a large number of preserved Civil War battle sites ensure that you'll never have a dull moment here.
Plan a Visit
Retire Tennessee is an excellent place to start if you're looking for information. Request literature on a variety of communities and discover all that Tennessee has to offer. 731/336-2630; retiretennessee.org
Henry County is a beautiful place to enjoy retirement. Stop by Kentucky Lake (kentuckylaketourism.com) for breathtaking views or check out the Paris-Henry Arts Council calendar of events (phcarts.com). 731/642-3431; retireparistn.com
Tour Jefferson County and experience lakeside life. On your trip, visit Cherokee Lake (cherokeelakeinfo.com) or Douglas Lake (douglaslakeinfo.com) and see for yourself why retirees flock to the area. 865/397-9642; jeffersoncountytennessee.com
Explore your roots in Maury County. While you're there spend some leisure time at one of the many parks in the county or tour some of the historical antebellum homes (antebellum.com). 888/852-1860; mauryalliance.com
Warren County is an outdoor lover's dream. Visit the Cumberland Caverns (cumberlandcaverns.com) and Great Falls Dam (tva.com/sites/greatfalls.htm) to discover why. 931/473-6611; warrentn.com
Choose Chattanooga is a great resource for finding out what makes Chattanooga appealing to retirees. To schedule your Discover Chattanooga Tour, call 423/424-4258 or visit choosechattanooga.com