Sizzling Summer Fun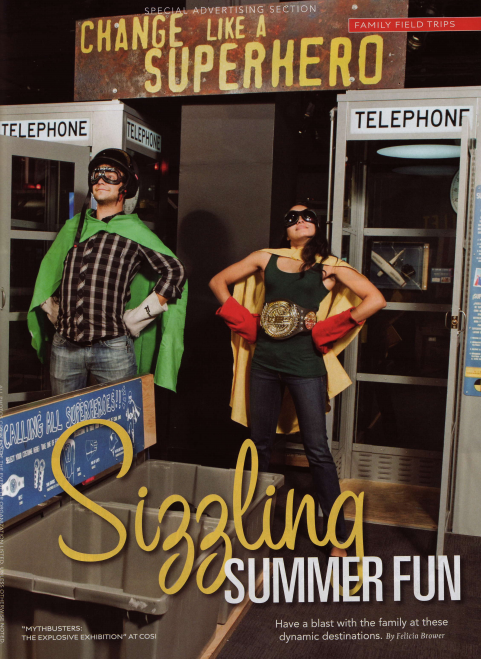 "Sizzling Summer Fun"
Ohio Magazine
Have a blast with the family at these dynamic destinations. 
Summer has finally arrived and it's the perfect opportunity to get together as a family for some quality bonding time. These affordable attractions offer entertainment for all ages, so hop in the car and start making memories.
Explore the Great Outdoors
Cambridge/Guernsey County is bursting with opportunities for outdoor adventures. PIan a trip to AEP ReCreation Land, a 60,000-acre revitalized recreational area with over 63 million trees, 350 lakes and ponds and 380 camp sites. Create memories at Salt Fork State Park – Ohio's largest state park – while fishing, hunting, camping, hiking, boating, swimming or golfing. Unwind at Seneca Lake Park, a popular 3,500-acre Muskingum Watershed Conservancy Lake where visitors can enjoy water recreation pastimes or simply sunbathe on the sandy beach.
PIan an escape to licking County and see one of North America's premier public gardens. At the Dawes Arboretum in Newark, visitors can stroll through more than 1,800 acres of plant collections, gardens and horticultural havens. For information, stop at the Visitor Center, where you'll find a bonsai collection and bird-watching garden' After exploring the grounds, your entire family will gain a new appreciation for the natural world and the importance of it. Attend weekend workshops or enroll your child in a day camp for educational, hands-on activities. Dawes is open from dawn until dusk; admission to this botanical beauty is free.
In Delaware County, venture into the Olentangy Indian Caverns, a complex maze of winding passages and underground rooms that served as a safe haven for the Wyandotte Indians. Afterward, head to AIum Creek State Park where you'll find 4,630 acres of breathtaking landscape. Relax on Ohio's largest inland beach, kayak near shale cliffs and tree-lined shores, try your hand at dis: golf, and test your boat's speed capability in a designated unlimited horsepower section of the lake. Biking, hiking and bridle trails provide a great way to work up a sweat while viewing the unique natural features of the area. See Mother Nature in a new light at the Great Ohio Lodges. During the day discover all the wonders of the outdoors, let your children participate in arts and crafts classes or spend time in a nature center. At night, stay in the newly renovated Burr Oak, Hueston Woods, or Shawnee State Park Lodges. To help make family getaways more affordable, kids eat for only 99 cents on Memorial Day weekend through Labor Day weekend, and guests are eligible for a 20 percent discount when they stay two nights or more.
Step Back in Time
Experience history firsthand at Sauder Village in Archbold where costumed guides and working craftsmen show families what life was like in Ohio  more than 100 years ago. Visit historic homes, farms, and community shops to try your hand at washing clothes, making noodles, helping in the gardens, churning butter or creating crafts. Meet baby animals in the barnyard, play pioneer at Little Pioneers Homestead and take a train or buggy ride. Enjoy a home-style meal together at the Barn Restaurant and stop by the Doughbox Bakery for some tasty treats.
Ohio's rich history contains stories of Native American and African-American culture, 19th-century life, ancient earthworks, presidential heritage, space travel and more. Keep track of Your visits to any of the 58 Ohio Historical Society sites and attractions with the Passport to Your Ohio History Program. Collect stamps from each location you visit and answer challenging treasure-hunt-style trivia questions while recording your personal experiences and surrounding yourself with history. This year, shutterbugs can take a shot at winning a photo contest that corresponds with the locations they visit.
With four pre-Civil War buildings on its premises and thousands of antiques lining the shelves, Lehman's in Kidron almost resembles a museum. Lehman's originally sewed as a place for the Amish to find nonelectric goods, but has since grown to become a resource for anyone interested in living without electricity or looking for a rare product from the past. Stop by the Cast Iron Cafe for a snack or the Soda Pop Shop for its large selection of cold drinks.
Get Wild
Go on a safari without leaving Ohio at the Wilds, a safari park and conservation center on nearly 10,000 acres of Iand in Cumberland. Home to rare and endangered animals from around the globe, the Wilds fuses cutting-edge conservation science with one-of-a-kind experiences and adventures, including safari tours, zip-lining, horseback riding, fishing, and more. See exotic animals up close and learn about them from friendly and knowledgeable guides. Shorter, interactive tours are available for young children.
Dublin's Columbus Zoo/COSI Family Getaway Package offers reduced rates to a selection of eight hotels, all located only minutes from the Columbus Zoo and Aquarium and Zoombezi Bay Waterpark. Enjoy discounted passes to the zoo and the Center for Science and Industry, as well as coupons for shopping and more than 100 dining destinations. New this year: buy-one-get-one tickets to the Ohio History Center and a $12 Family Day Pass to Columbus Clippers' Sunday home games for two adults and three children.
Learn and Discover
Bring your family to Cleveland to see replica sailing vessels during the four-day Tall Ship Festival, July 4-7, on the shores of Lake Erie. Then head to Cedar Point and experience thrills aboard GateKeeper, the park's new 4,164-foot-long roller coaster that twists, turns, and rolls. Rock out with your idols at the Rock and Roll Hall of Fame Museum, play on more than 30,000 acres of parkland, soak up the sun at beautiful beaches, or get wet and wild inside the world's largest indoor water park.
Visit Findlay's fascinating museums, where families will find something to stir the imagination. Ride a quarter-scale train at Northwest Ohio Railroad Preservation Inc. and learn about the history of railroads. Make sure to visit The Mazza Museum at the University of Findlay to view the world's largest collection of original artwork from children's literature. At the Hancock HIstorical Museum, tour a Victorian home and cabin and experience a presentation by the Living History Troupe.
This summer is a busy one at the Center for Science and Industry (COSI) in Columbus. Separate fact from fiction at the newest major offering, "Mythbusters: THe Explosive Exhibition," based on the DIscovery Channel show. Guests of all ages will have an exceptional time learning through hands-on, family friendly displays. Take a look at the myths and the MythBusters, and find out what experimenting is all about by participating in a series of fun, Iive demonstrations and a variety of activities. Visitors will also enjoy Big Machines in June, Messy Science Day on July 4 and Farm Days in August.