"Cheers to Ohio Wine"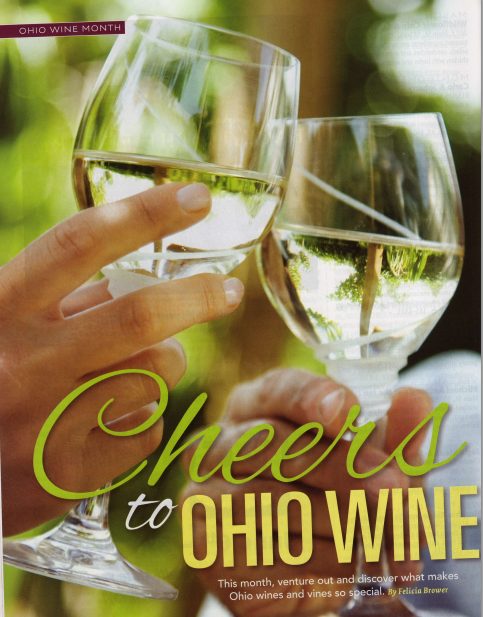 "Cheers to Ohio Wine"
Ohio Magazine
This month, venture out and discover what makes Ohio wines and vines so special. 
Many wineries have stacked their June calendars with live entertainment, tastings, tours and classes to educate participants about the art of winemaking and the remarkable qualities of Ohio wines. With a major festival nearly every weekend, it's also a great month to plan a wine themed adventure.
Ohio's history of growing wine grapes stretches back to the early 1800s when Nicholas Longworth first planted Catawba grapes in Cincinnati. His grapes made a semi-sweet wine that quickly won the praises of consumers, and by 1859 Ohio had become a leading producer. While much has changed since then, wineries are continuing to develop new and innovative ways to produce high-quality, great-tasting wines.
Over the last 10 years, Ohio's wine industry has grown significantly. Christy Eckstein, executive director of the Ohio Grape Industries Committee, believes that the future holds great things for the industry. "We are seeing new wineries opening their doors to visitors each month and more and more acres of vineyards being planted each year."
OHIO AUTHENTICITY
There are many award-winning wines produced in Ohio, but not all of them are made with Ohio grapes. Some consist primarily of grapes or juice from other states. To get a bottle of authentic "made in Ohio from Ohio grapes" wine, you'll need a bottle of Ohio Quality Wine.
Introduced in 2007, the Ohio Quality Wines program includes only wines that are produced with at least 90 percent Ohio-grown grapes verified by sensory and chemical analysis. A distinctive Ohio Quality Wine logo printed on the wine bottle capsule (the cork covering) or a gold foil sticker placed on the bottle signifies a qualifying wine. This program enables consumers to easily identify wines made with Ohio grapes.
A wine's appellation – the georgraphical origin of the grapes used to produce it – can also be a factor when choosing an Ohio wine. For a winery to use an appellation name on the label, 85 percent of the grapes used to make the wine must be from that area.
FESTIVAL FRENZY
The abundance of wine-related festivals is dearly an indicator of Ohioans' appreciation of our state's vintages. The festival experience is always unique, and while wine might be the focus of the event, often there are activities for all ages to enjoy. Kick off Ohio Wine Month in the southwest region of the state at the Valley Vineyards Wine and Beer Festival: A Taste of Warren County in Morrow, May 31 – June 1. Visitors can enjoy live music and sample fine food and wine from local producers. There's also a charity walk/run that offers a new view of the vineyard while supporting a great cause: the Hamilton Township Police Department's "Shop With a Cop" program.
The following weekend, head to central Ohio for the Granville Art Affair and Wine Festival. This free event, June 7-8, is Licking County's largest juried art festival and features a hands-on art project tent for all ages, Iive entertainment, an auto display, fine-food vendors and wine tastings. Festival admission and activities are free, but a ticket must be purchased to participate in the wine tasting.
Trek north to sample some of the more than 300 wines from around the world, including a number of Ohio vintages, available at the Cleveland Wine Festival, June 4-5. Learn about new and exciting varieties from the experts, attend a wine seminar or cooking demonstration or relax and listen to live music. A discounted designated driver ticket is available for those who don't intend to drink any alcoholic beverages.
The 11th Annual Summer Solstice Wine, Art and Music Festival at Sarah's Vineyard and Art Gallery in Cuyahoga Falls on June 21-23 showcases more than a dozen Ohio wineries, live music, art displays and local food vendors. Enjoy the scenery – the vineyard is located in the Cuyahoga Valley National Park.
Unwind by the water as Ohio Wine Month concludes later this month. The Lake Erie Wine Festival, June 22-23 at The Landing Festival Marketplace at Geneva-on-the-Lake, features food and wine demonstrations, bands, artists and a new Wine Tasting Adventure, in which participants will learn to appreciate the nuances of Ohio wines.
VISIT THE VINES
If you prefer a more intimate environment, a visit to a winery for a smaller event might be more appealing. Many of the nearly zoo Ohio wineries are opening their doors and bottles for visitors interested in top-notch wine and an enticing atmosphere. The following are a few special events:
Bring your dancing shoes for Stoney Ridge Winery's (stoneyridgewinery.com) "Music at the Ridge" on June 1 and 15. Located in Bryan, the winery serves a Chicken n' Chops Cook-Out on June 8 and a Macho Nacho Buffet on June 22.
Geneva's Ferrante Winery & Ristorante (ferrantewinery.com) has entertainment every weekend and also hosts a Burger Bash, where guests can try a delicious homemade wine burger while taking in views of the property from the patio.
Shawnee Springs Winery (shawneespringswinery.com) in Coshocton has live music several weekends, a Summer Solstice Party and a karaoke night when brave patrons can belt out some of their favorite tunes.
The Summer Music series begins in June at Yellow Butterfly Winery (yellowbutterflywinery.com) in Newcomerstown; every weekend, 2-5 p.m, move to the music while you enjoy fine wine.
Gervasi Vineyard & Italian Bistro (gervasivineyard.com) in Canton has an event almost every day in June, ranging from live music to farmers markets. For those interested in learning while they taste, weekend tours are also available.
BECOME A VIP
New in 2013, the Ohio Wine VIP Program is a free and easy way to earn bonuses for supporting Ohio wineries. Collect a ticket at any of the participating wineries you visit during a 12-month period and receive points for each visit throughout the year. Redeem your points for rewards such as wine accessories and tickets to wine events. When you register online, you'll also receive a free gift for becoming an Ohio Wines VIP. For more information about the Program or a complete list of participating wineries visit ohiowinesvip.com or tasteohiowines.com.